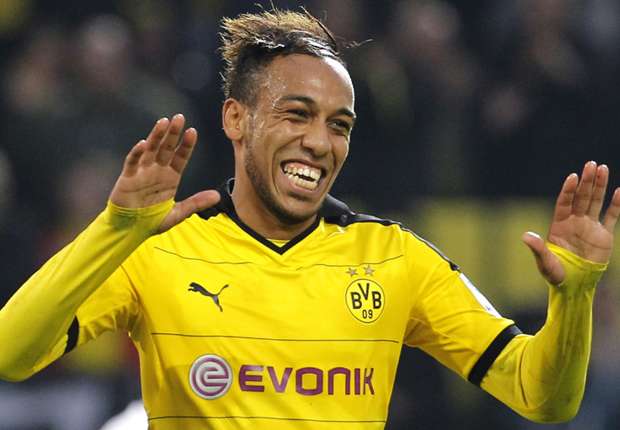 The free-scoring Gabon international and BVB striker sees Ronaldo as a target he must match and believes he can score 40 goals in a season.
With 13 goals in the Bundesliga already this season, Borussia Dortmund's Pierre-Emerick Aubameyang is fast becoming one of the most talked about strikers in world football and he is hopeful he can maintain his stellar form.
Since Mario Gotze and Robert Lewandowski left for rivals Bayern Munich, pressure had been on the Gabon striker to fill the attacking void. And now, level with the prolific Pole as the league's top scorer, it seems the 26-year-old's time has arrived.
"Sometimes I tell myself: 'F***, I'm really good," Aubameyang joked in an interview with L'Equipe.
"I'm kidding, of course. It's a great pleasure. I tell myself: I'm on the right track. It's great to see my hard work paying off, even if it's not finished.
"If a Ronaldo can score 50 goals a season, why can't I? I believe and, when I pray, I ask to become one of the best attackers on the planet.
"I need to continue like this, to repeat this form over several seasons like Messi and Ronaldo have done. For years I've said that one day I'd like to score 40 goals.
"I have progressed, I have worked a lot in front of goal, trying to keep a cool head, trying not to force things.
"It's my third year here and I feel good, at home. People talk about me and that's good, but a lot of it has been down to how my team-mates have supported me."
SEE ALSO: Aubameyang Cannot Be Compared To Lewandowski Because… – Reus
---
Got a news tip/information for us? Email info@thesheet.ng
Follow us on twitter @thesheetng
BBM Channel: C0042057A
Like us on Facebook @ www.facebook.com / The Sheet
This is a 2015 Copyright of thesheet.ng. You may wish to request express approval from thesheet.ng to republish
---
Read it Later
Facebook Comments