Nigeria's 2019 general elections is greatly anticipated by Nigerians and others citizens of the world alike. While there are over 90 candidates running to be Nigeria's number one citizen, there are two frontline candidates who many analysts believe have a real chance of landing the top job. Incumbent President Muhammafu Buhari of the ruling All Progressives Congress (APC) is hoping to win a second term, while Alhaji Atiku Abubakar, former Vice President and candidate of the Peoples Democratic Party (PDP), spearheads the ambitions of party stalwarts to return the lost glory of the former ruling party.
Alongside the presidential election, Nigerians will also be voting in the National Assembly elections, electing officials into the Senate and the House of representatives. Many of the candidates are former governors and veterans of the legislative chambers running for another term but there is also a healthy dose of fresher candidates, propelled by the passage of the famous Not Too Young To Run law in a bid to upset the establishment.
READ ALSO: #NigeriaDecides: Surprising Predictions For Nigeria's 2019 Presidential And Southern Elections by Timi Olagunju [CLICK]
As the number one youth-centric content publisher in Nigeria, TheSheet NG through her "Nigeria 2019 Elections Centre" will be bringing you exclusive live reports, situation updates and live-streams as events unfold on election day across the six geopolitical zones on the website (thesheet.ng) and across social media.
We shall be bringing you live updates of the electoral exercise across the 36 states from our control room, in a balanced, regular and professional analysis.
We will also be engaging voters through our live blogging on our website and social media pages and live-streaming to inspire collective action and promote citizens' advocacy and participative sociopolitical culture.
We hereby invite you to be part of our coverage by following us on our social media platform, and also engage and update Nigerians by sending in sending iWitness reports, Photos and Videos from the polling booths near you.
If you witness any electoral malpractices in the election, report it by sending us a video or picture on any of our platforms below or tagging us and using the Hashtag #SeeSomethingSaySomething
Join the conversation here:
Website: www.thesheet.ng
Facebook: TheSheetng
Twitter: @thesheetng
Instagram: @thesheetng
Whatsapp: 09098070080
Youtube: TheSheet TV
Follow the blow by blow reports via the LIVE BLOG via thesheet.ng and if you have any enqiries about The Sheet Nigeria 209 Election Centre, email editor@thesheet.ng or info@thesheet.ng
_____________________________________________________________________
Don't forget to refresh your browser always for fresh updates.
_____________________________________________________________________
5.45pm: Buhari wins in Atiku's polling unit
The All Progressives Congress candidate in the presidential election, Muhammadu Buhari, won in Ajiya Unit 12, Yola, Adamawa State, where Atiku Voted.
APC Scored 187, while PDP got 167 in the 2019 presidential poll.
5:00pm : Man caught selling weed during election in Lagos
A man has been arrested with two bags of weeds during the ongoing election in Lagos .
He was  nabbed by the operatives of Lagos State police command while hawking weed along Berger axis and handed him over to Base 105, Ojodu.
3:30pm: Interesting development in Sokoto…
Some All Progressives Congress (APC) agents in Sokoto State have allegedly been caught on tape voting on behalf of voters, by placing their fingers beside the APC logo on the ballot paper and then passing on the paper to another agent to drop into the ballot box.
According to Sahara Reporters, the incident happened at Kammanda, Polling Unit 002 in Wammako Local Government Area of the state.
3.30pm
BREAKING! PDP Wins At Sanwo-Olu's Polling Unit
The Peoples Democratic Party (PDP) defeated the ruling All Progressives Congress at the Femi Okunnu polling unit, Lateef Jakande, Ikoyi where the APC governorship candidate in Lagos State, Babajide Sanwo-Olu, voted in the presidential poll.
The PDP presidential candidate, Atiku Abubakar, polled 52 votes to defeat President Muhammadu Buhari of the All Progressives Congress, who got 48 votes.
02:55pm
At PU 102 Ward 8 Ekerin Ogbomosho North LGA, voting has ended and party agent are called to verify the number of ballot papers signed out
02:50pm
Poll officials at PU003 Sarkin Yara ward A, Daura, in Katsina State, declared that voting is over and sorting of ballot papers will begin any moment.
02:30pm
10 youths arrested for snatching ballot boxes
 Ten youths have been arrested from different locations in Bende local government area of Abia State.
According to Daily Trust, they were arrested over allegations of attempting to snatch ballot boxes.
The suspects were arrested following a tip-off from youths in the area who alleged that they were unknown and armed.
They were, however, handed over to army personnel on duty close to the local government headquarters.
02:25pm
National Chairman of the All Progressives Congress, Adams Oshiomhole, has commended the conduct of the general elections, describing the process as one that would ensure victory for all Nigerians, if well-managed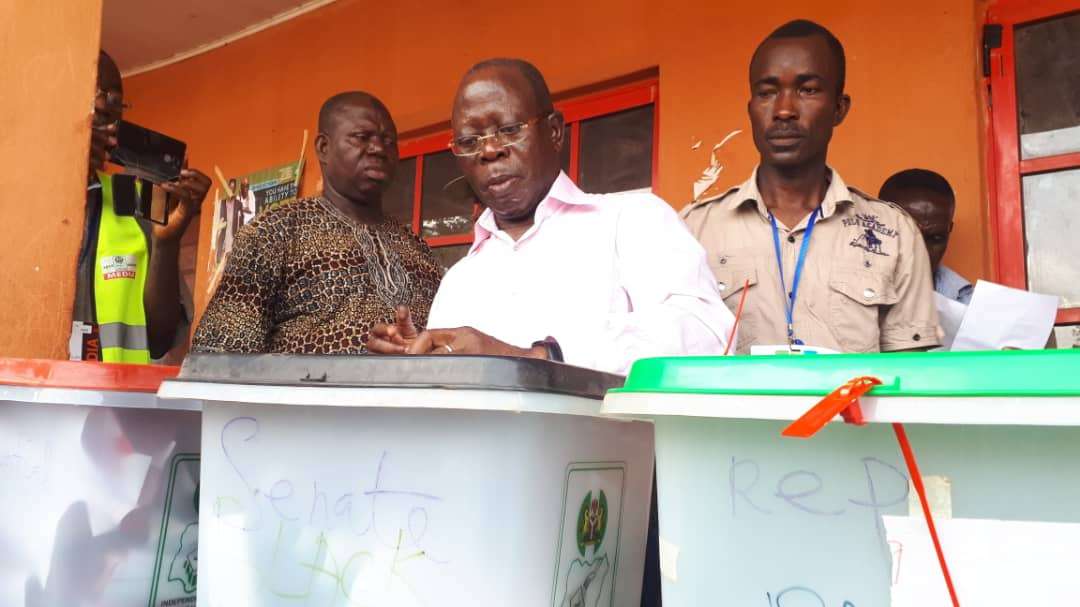 01:22pm:
INEC said via its official twitter handle that it is pleased with the functionality and efficiency of the card readers. "#INEC is pleased to report that the Smart Card Reader proved its functionality and efficiency by successfully authenticating all Presidential Candidates among millions of other Voters within a short time at their respective polling units across the country."
#INEC is pleased to report that the Smart Card Reader proved its functionality and efficiency by successfully authenticating all Presidential Candidates among millions of other Voters within a short time at their respective polling units across the country.#NigeraDecides2019

— INEC Nigeria (@inecnigeria) February 23, 2019
12:50pm: Lagos State Governor, Mr. Akinwunmi Ambode, being accredited during the Presidential and NASS Elections at Ward A5 Polling Unit 033, Ogunmodede College, Papa, Epe, on Saturday, February 23, 2019.
12:35pm
Ex President, Chief Olusegun Obasanjo casting his vote
12:15pm
According to Sahara reporters, Mr Thywill Dobtubo was reportedly shot dead by Nigerian Army for attempting to snatch ballot box in Rivers State.
12:07
Ex President, Goodluck Jonathan accompanied by his wife, Patience Jonathan, casting their vote
12:00pm
PDP presidential candidate, Alhaji Atiku Abubakar and his wife have cast their vote at the Ajiya polling unit, Adamawa State.
#NigeriaDecides As Oga @atiku plus im wife cast deir vote for Ajiya polling unit, Adamawa State, he talk say him be 'democrat' wey go accept defeat if he loose the election #Atiku #INEC #VoteNotFight #Election pic.twitter.com/FfVBBxO9UD

— TheSheet TV/Thesheet.ng (@thesheetng) February 23, 2019
11:30am
The Moment VP Prof. Yemi Osinbajo Cast His Vote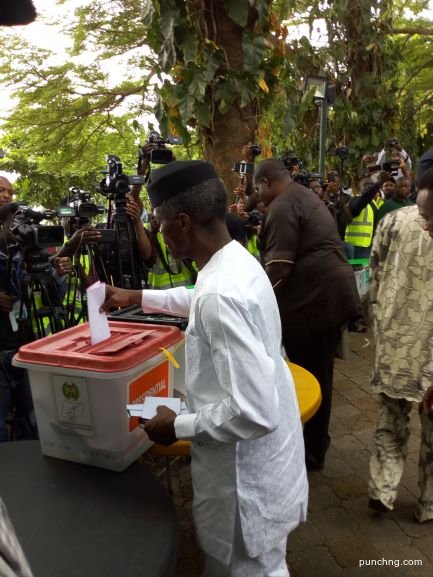 11:23am:
Voters at Dutse Ward polling centre, Bwari Area Council
11:18am
Senator Ben Bruce on his way to cast his vote in Bayelsa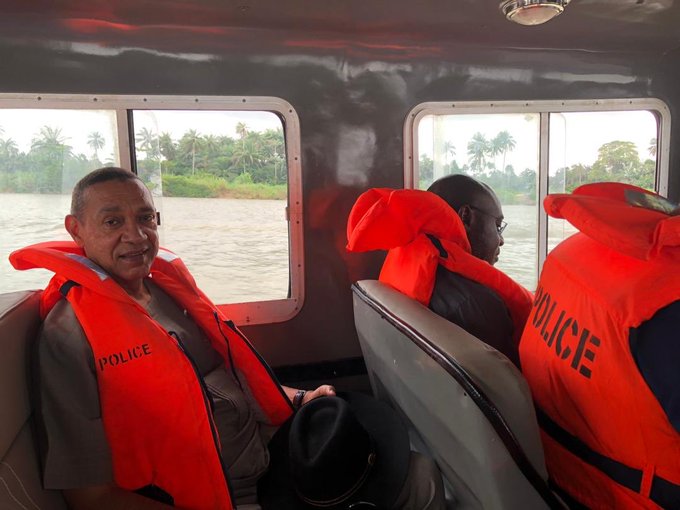 11:10am 
VIDEO: Senator Shehu Sani queuing to cast his vote at Agwa Seriki ward, polling unit 20 in Kaduna Central senatorial district
11:02am: Voters delayed voting over incomplete ballot papers in Kwara
Voters in Adewole Ward, unit 015, Oke Agodi, Ilorin, Kwara State, delayed voting despite the early arrival of election materials and INEC officials because the ballot papers brought were not complete.
An APC party agent, Akintola Sodiq, who spoke to our correspondent said that 567 voters were on the list at the ward but only 500 ballot papers were brought for each candidate.
He said, "We have 567 voters on the list for presidential, National Assembly and House of Representative but they brought only 500 ballot papers each.
"We cannot start voting now until the remaining ballot papers arrive."
However, some INEC officials later arrived with the remaining papers and voting commenced by 9.52am.
Unit 015 is close to unit 004 were Kwara APC governorship candidate, Abdulrahman Abdulrasak is expected to cast his vote.
10.33 am: PU 13 AGUOKA, BAKASSI CAMPUS AWKA SOUTH LGA, ANAMBRA CENTRAL: voting on going, SCR authenticating some PVCs, while those who were not authenticated are thumb printing manually.
10:30am: PU 021, Oregun, Ikeja Local Government, Lagos West Senatorial District, Lagos State.
Voting commences, voters patiently taking turns to cast their ballots
10:04 a.m: PU 021, Ward D, Alimosho Local Government, Lagos West Senatorial District, Lagos State.
The election process is yet to start. The senatorial candidate of the APC, Solomon Olamilekan, is on the queue.
10:08 a.m: PU 10 and 14, Gerald, Ikoyi, Eti-Osa Local Government, Lagos State. INEC officials not yet around. Voters waiting.
9:56am: PU 03. Elepa, Voting is in progress. PO, however says the unit is having the issue of card reader authentication issues. But according to him, he'd call the SPO who is said to be on the way to the unit. There's additional VP to the unit.
#Offa LG report
#Kwara South
#Kwara State.
72.8 million Permanent Voters Card (PVC) collected
According to the electoral commission, INEC, a total of 72.8 million (72,775,585) are eligible to vote in the elections having collected their permanent voters' cards (PVCs). Of the 36 states and Abuja, Lagos, Kano, Kaduna, Katsina and Rivers lead with the highest number of eligible voters.
A total of 91 political parties are registered to participate in the elections which will take place in 119,973 polling units and 57,023 voting points nationwide.
---
Do you have a story you care about or is there an issue you want Thesheet.ng to look into? Email your story ideas or suggestions to us at editor@thesheet.ng.
If you wish, you can also send your stories, pictures and videos to our
Whatsapp number:  09098070080
or any of our Social Media platforms:
Facebook: Facebook.com/Thesheetng
Twitter (tweet at us or DM): @thesheetng
Instagram: @thesheetng
This is a 2019 Copyright of thesheet.ng. You may wish to request express approval from thesheet.ng to republish.
Read it Later
Facebook Comments