Not less than 5 Nigerian Ministers were caught sleeping on Thursday when President Muhammadu Buhari presented the 2017 budget to the National Assembly.
Many expected a lot of important figures to be mentioned in the presentation and a lot of note taking taking place, what no one expected was to see members of the President's cabinet using the opportunity to catch up on some "much needed" nap time.
According to a photo posted by The Nigerian Wailers, the ministers' character shows why 'Nigeria is doing Ziggi Zagga'
The identified ministers are:
1. Solomon Dalung – Youth and Sports
2. Audu Ogbeh – Agriculture
3. Lai Mohammed – Communication
4. Udo Udoma – Budget
5. Okechukwu Enelamah – Industry, Trade and Investment
See below: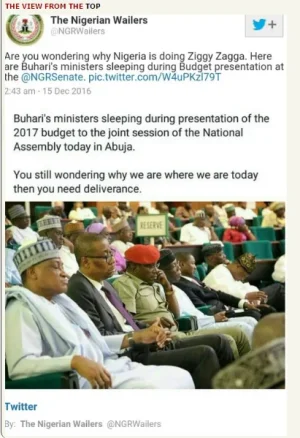 SEE ALSO: NYSC: FG Finally Concludes Investigation Into Pretty Corp Member's Death… Read FULL REPORT
---
Got a news tip/information for us? Email info@thesheet.ng
Follow us on twitter @thesheetng
BBM Channel: C0042057A
Like us on Facebook @ www.facebook.com / The Sheet
This is a 2016 Copyright of thesheet.ng. You may wish to request express approval from thesheet.ng to republish.
Read it Later
Facebook Comments