"Black is Beautiful" she said, moments before being crowned Miss World in 2001, Sun city, South Africa. The then Governor of her state, Peter Odili described the feat as "an expression of the natural endowment of the people of Rivers State and the noble qualities of Nigerian womanhood." He added that the historic feat was "symbolic of the spirit of the new Nigerian nation and renaissance of our cultural values."
Born in Lagos state on the 22nd of December 1982, Agbani Asenite Darego, is arguably one of the most successful models to have come out of Nigeria and she is best known as the first Black African to win the Miss World beauty pageant. Agbani had a very memorable childhood which was scarred by the loss of her mother to breast cancer.
She attended Bereton Montessory Nursery & primary school and Federal Government Girls College (F.G.G.C) Abuloma in Rivers state where she hails from. She then pushed further to the University of Port Harcourt, where she studied Computer Science for a year before her foray into the pageant world.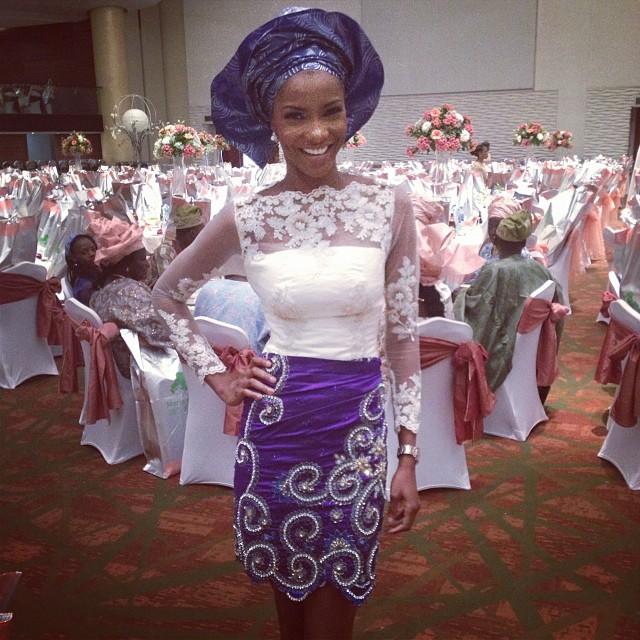 As a teenager, Agbani had always wanted to be a supermodel, and despite her conservative father's wishes, she auditioned for the M-Net Face of Africa modelling competition and missed out on the top spots. She then entered for the Most Beautiful Girl in Nigeria (MBGN) competition which she won and had the opportunity to represent Nigeria at the Miss Universe competition. She came out 7th as the only black finalist of the eventual top 10. This spurred her on to do more and represent Nigeria at the Miss World Beauty Pageant in Sun City, South Africa.
Agbani's victory was widely welcomed in Nigeria, and her one-year tenure included goodwill trips and scheduled appearances on behalf of the pageant, and a national honour of MFR. At the competition won a total cash prize of $100,000, plus gifts valued at $150,000.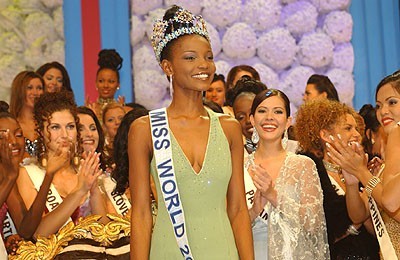 Prior to winning MBGN, Darego featured in print commercials for boutique chain Collectables, and following her stint at Miss Universe was invited by Naomi Campbell to participate in Frock 'n' Roll – a charity fashion show in Barcelona and soon negotiated a modelling deal with Donald Trump's management to establish links with modelling agencies in America.
After her 1 year reign as Miss World, she was represented by the London and Paris branches of Next Model Management and landed a three-year contract with L'Oréal. Hence, becoming only the second black model to accomplish this feat after Vanessa Williams. While she was signed to Next Model Management and Ford Models, she enrolled at New York University where she studied Psychology, graduating in May 2012.
Agbani has also appeared on a host of top Nigerian and international fashion magazines which include: Elle, Marie Claire, Allure, Trace, Stitch, Cosmopolitan, Essence, Complete Fashion,  ThisDay Style, Genevieve, True Love, and TW. She ahs also worked with numerous designers including Oscar de la Renta, Marc Bouwer, Tommy Hilfiger, Ralph Lauren, and Gianfranco Ferre.
In Nigeria, Agbani has appeared in advertising campaigns for hair care brand Gentle Touch with model Oluchi, and also she served as the face of Arik Air. She has been photographed by Annie Leibovitz for Vogue. Other brands she has modelled for include Avon, Christian Dior, Sephora, Target, and Macy's.
Darego has judged numerous pageants, and fashion and modelling competitions including Miss World 2014, Miss England 2002, Mr. Scotland 2002, and Elite Model Look Nigeria 2012 and 2014. In 2010 she launched a style and fashion reality show Stylogenic on Nigerian television, and in 2013, she announced her denim range, AD by Agbani Darego, which includes jeans, dresses, sunglasses and bags.
Incase you have forgotten that historic moment, here it is once again.
Agbani Darego is THE SHEET Woman of the week
SEE ALSO: THE SHEET Woman Of The Week: TY Bello – Babies Are The Boss! I Would Choose To Photograph Them Over The Queen Of England
---
Got a news tip/information for us? Email info@thesheet.ng
Follow us on twitter @thesheetng
BBM Channel: C0042057A
Like us on Facebook @ www.facebook.com / The Sheet
This is a 2015 Copyright of thesheet.ng. You may wish to request express approval from thesheet.ng to republish
Read it Later
Facebook Comments